Do you want to drive your own vehicle?
If so, you'll need to have a driver's license. To get a driver's license the first step is to get a Student Permit and to do that you'll need to know what LTO Student License requirements are.
Why is it needed?
An LTO Student Permit will enable you to practice driving and eventually apply for a driver's license. If you're looking forward to having your own Student Permit then see the qualifications, requirements, and procedures below.
LTO Student License Requirements
QUALIFICATIONS you need to apply for a Student Permit license
Must be at least 16 years old
Must be physically and mentally fit to operate a motor vehicle
Must be literate in either Filipino or English
REQUIREMENTS you need for a Student Permit license application for 2019
Filled out driver's license application form (ADL) [Download ADL form here]
Birth Certificate (Original and photocopy)
If you are under 18 years old: an original copy of parental/guardian consent and original and photocopy of any (1) valid Government-issued ID with signature of your consenting parent/guardian
Medical Certificate (hard copy) stating that you are physically and mentally fit to drive a vehicle. This must be issued by an accredited LTO medical clinic and registered physician. (A copy of the certificate must be electronically uploaded by the clinic/physician to the LTO IT system)
Note:
If a birth certificate is unavailable, any of the two will suffice:
Joint affidavit of two disinterested persons who know the applicant and who can attest to his/her age and identity accompanied by non-availability of record from NSO or local civil registry office.
Any legal document to prove his age and identity (e.g. GSIS, SSS, Passport or any government issued ID)
Applicants below 18 years old need a parent's or guardian's written consent with a photocopy of an ID card as proof of identity. The written consent must be notarized if the parent or guardian is not available.
STEPS and PROCEDURES to obtain a Student license
In your nearest LTO licensing center, proceed to the customer service counter and secure a driver's license application form. You can also download the LTO student permit form (ADL form here) and have it filled out before transacting to any LTO office.
Once your number is called, go to the evaluator counter to submit all the required documents and have it checked for completeness and authenticity.
When your name is called, proceed to where your photo and signature would be taken.
Go to the cashier and pay the application fees to obtain an official receipt (OR)
Proceed to the releasing counter and present the OR to claim your student driver's permit.
If it makes it easier for you, here's an infographic: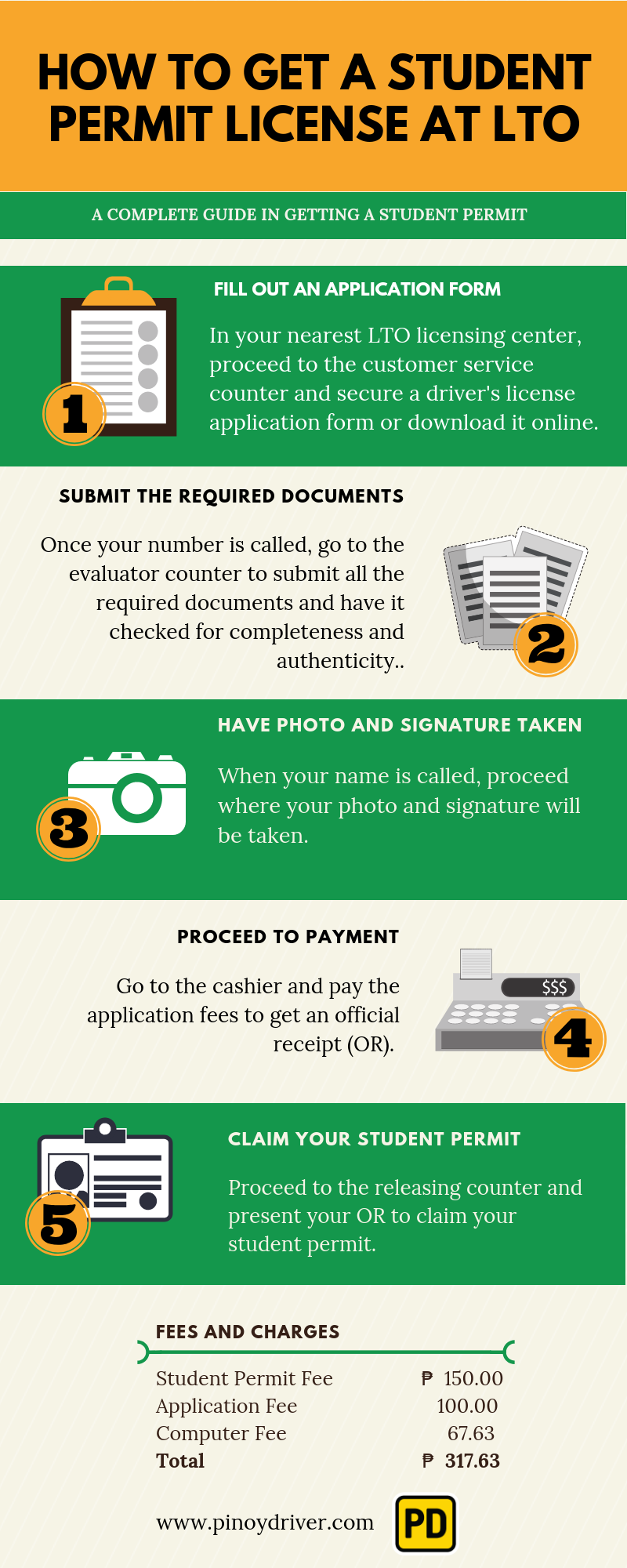 Venue
Any licensing center and district/extension office that accepts new driver's license transactions.
Fees and charges
| | |
| --- | --- |
| Fees and charges | Amount in Php |
| Student Permit fee | ₱150.00 |
| Application fee | ₱100 |
| Computer fee | ₱67.63 |
| Total | ₱317.63 |
What happens next?
An LTO Student Permit has a one year validity period. This gives you ample time to hone and practice your driving skills, learn the road signs and traffic rules, and prepare for the LTO Driving Test.
Bear in mind:
"Applicants who fail the Basic Driving Theory Test and/or the Practical Driving Test twice shall not be allowed to apply for the same within a period of 1 year. An applicant who fails either of the tests for the third time will not be allowed to apply for a period of 2 years."
So be sure to:
Take your actual and written driving lessons by heart. To help you pass the LTO written exam, you can use our free English reviewer and Tagalog reviewer.
We wish you luck in your journey. We hope that you'll get your non-professional or professional driver's license.
Drive safely!
Frequently Asked Questions