You found a new career in another location, or perhaps you just can't stand the ridiculous maintenance of your apartment anymore; or even better, you've just decided to start a family of your own. At some point in our life will have to move from one place to another. This is something that all of us will experience usually more than once in our life.
One of the toughest thing to deal with when moving out is moving your large items together with you. I'm talking about your mattress, the sofa set, and dining table, etc. Most of which are usually furnitures that if mishandled might cause damage to your stuff or even worse it might cause you your safety especially if you try to load into an unfit vehicle just like the one in the picture below.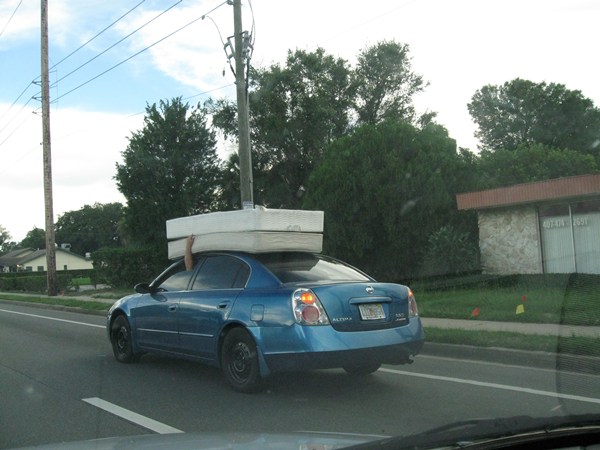 It's inevitable to not move something large when transferring from one place to another so in case you plan to do so then these are the best way to do it:
Hire a removals truck. Many call it "lipat bahay truck" here in the Philippines and there are plenty of them you can contact if you want their service. I actually tried to look for them online and in just 10 seconds I found some in Facebook and OLX: https://www.facebook.com/lipatbahaytruck/ and https://www.olx.ph/all-results/q-hauling-of-debris
This is the safest and most hassle-free way of moving your stuff to your new place. They often provide a driver plus 2-3 men to help you haul and unload your stuff to the truck.
Rent a truck. This is the cheapest option but you'll have to load and unload your stuff yourself. Not quite an option if you are moving an office or if you are not a minimalist type.
Get a roof rack. This will securely hold a furniture on top of your vehicle. Ideally you should try to balance the weight as you load onto your car. Too much weight on the rear end and this will lift your front end and will get the car unbalanced in corners as it will affect your steering and make it more likely for you to understeer. This also means that your headlights will project higher that could dazzle other motorists.
Keep in mind to refrain from tying items onto the roof of your vehicle because obviously painted surfaces are more slippery and the load could easily move and worse damage your load if the rope gets compromised when turning. If you're really persistent about tying stuff on your roof then use a rope canvass or stopper (better if with a ratchet to tighten it) and be sure to double check and tighten loose ends.
If you will travel a long distance with a heavy load on your roof then be sure to pack a little more pressure to your tires. But before you do so be sure to check out your manufacturer's handbook first.  
Carrying items in your car
Things can become missiles in an accident. Keep a low center of gravity. Use a cargo net. Tie heavy items down. Really heavy items should have the seat belt passed through them if possible.
Pets should be in a pet harness or a cage tethered to a seat belt.
Don't load items above the seat line in the boot.
Very heavy items can break through seat backs in an accident.